<Open Call Project SOCIAL DIVE>
I always felt that with Tokyo's constant redeveloping, there should be far more two-dimensional public art beyond advertisements and signs. I wish to propose a two-dimensional public artwork that will function as a landmark to an area, even after the event period has ended. In public space, I will create a piece that takes a young girl as its motif, which will become the symbol of that area.
《In the CBD》
Out of place in Otemachi, Tokyo's central business district (CBD), a sticker typcial of street culture creates a sense of incongruity, leading to divided feelings about its suitability depending on the person. However, the object boldly adorning the wall at the end of the street is too big to be called a sticker. Is it an advertisement? Is it illegal? Is it art? The work may come to shakes viewers' recognition as an unseen everyday scene.
Hogalee
Special Cooperation: Otemachi–Marunouchi–Yurakucho District Redevelopment Project Council
Venue Cooperation: Otemachi First Square Co., Ltd., NTT East
(As of June 2021)
1: "Landmark Art Girl", Silicone paint on wall, 2020, permanent mural on Takara Building, Kanda Ogawamachi, Chiyoda-ku, Tokyo
2: "Perspective-Girl" mt factory tour vol.8 masking tape mural, 2019, Okayama Prefecture, KAMOI KAKOSHI Co.,LTD
3: "Landmark Art Girl" photo of rough image, 2020, Ogawamachi, Chiyoda City
Current Activities
[Exhibition/Installation] Emote-Girl (August 21-September 6, 2020)
The second work for Tokyo Biennale 2020/2021, "Emote-Girl" is a 30m x 7m glass installation in the Marunouchi Building, featuring five different facial expressions of a young woman. The word "emote" in the title derives from "emotion" and refers to the intentions behind "exaggerated actions and gestures" that express emotions.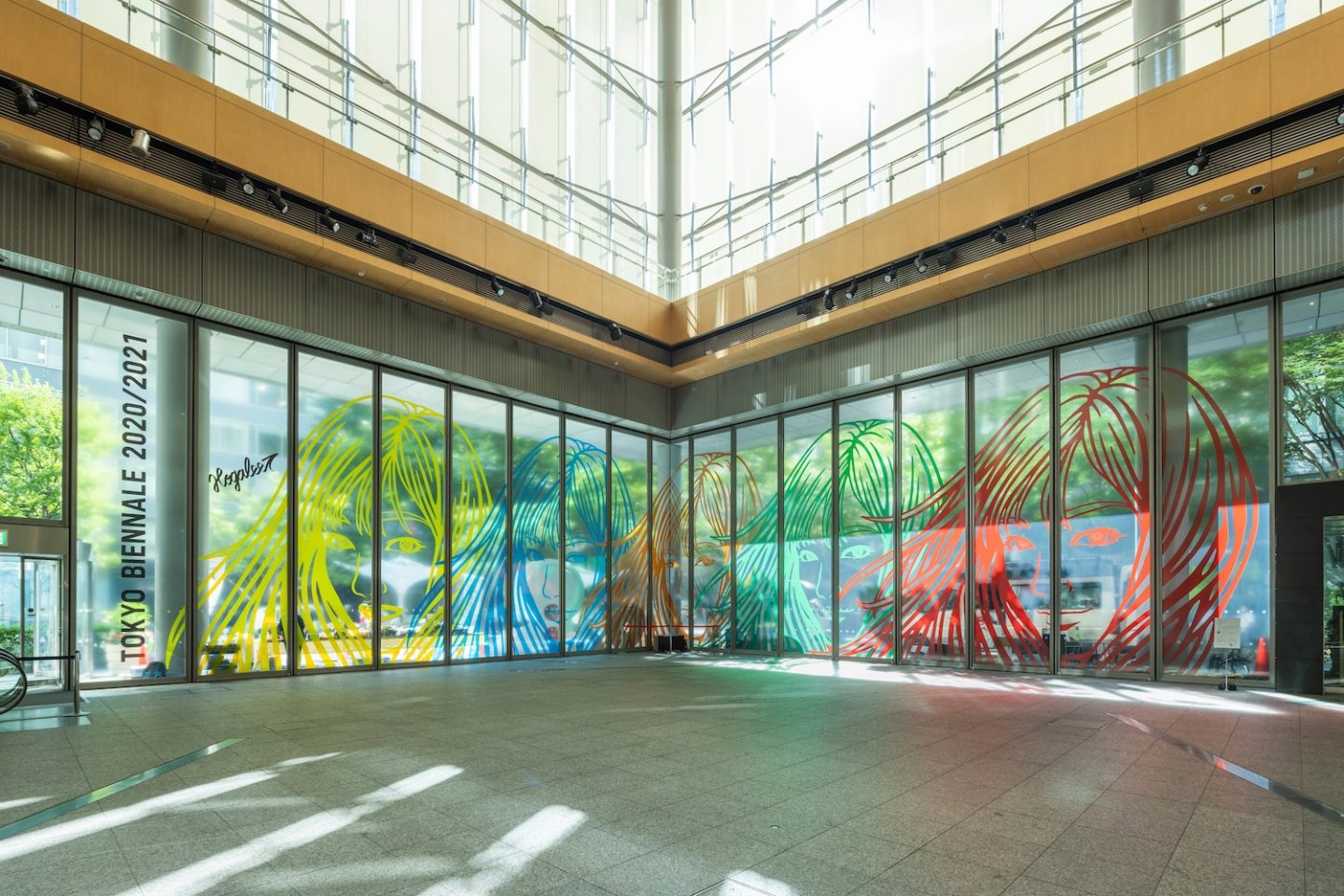 [Exhibition (mural)] Landmark Art Girl (from June 2020)
"Landmark Art Girl" is a mural on the rear wall of the Takara Building in Kanda Ogawamachi, facing Yasukuni Street. A back alley in the big city will be transformed into a unique space through the presence of a giant smiling girl.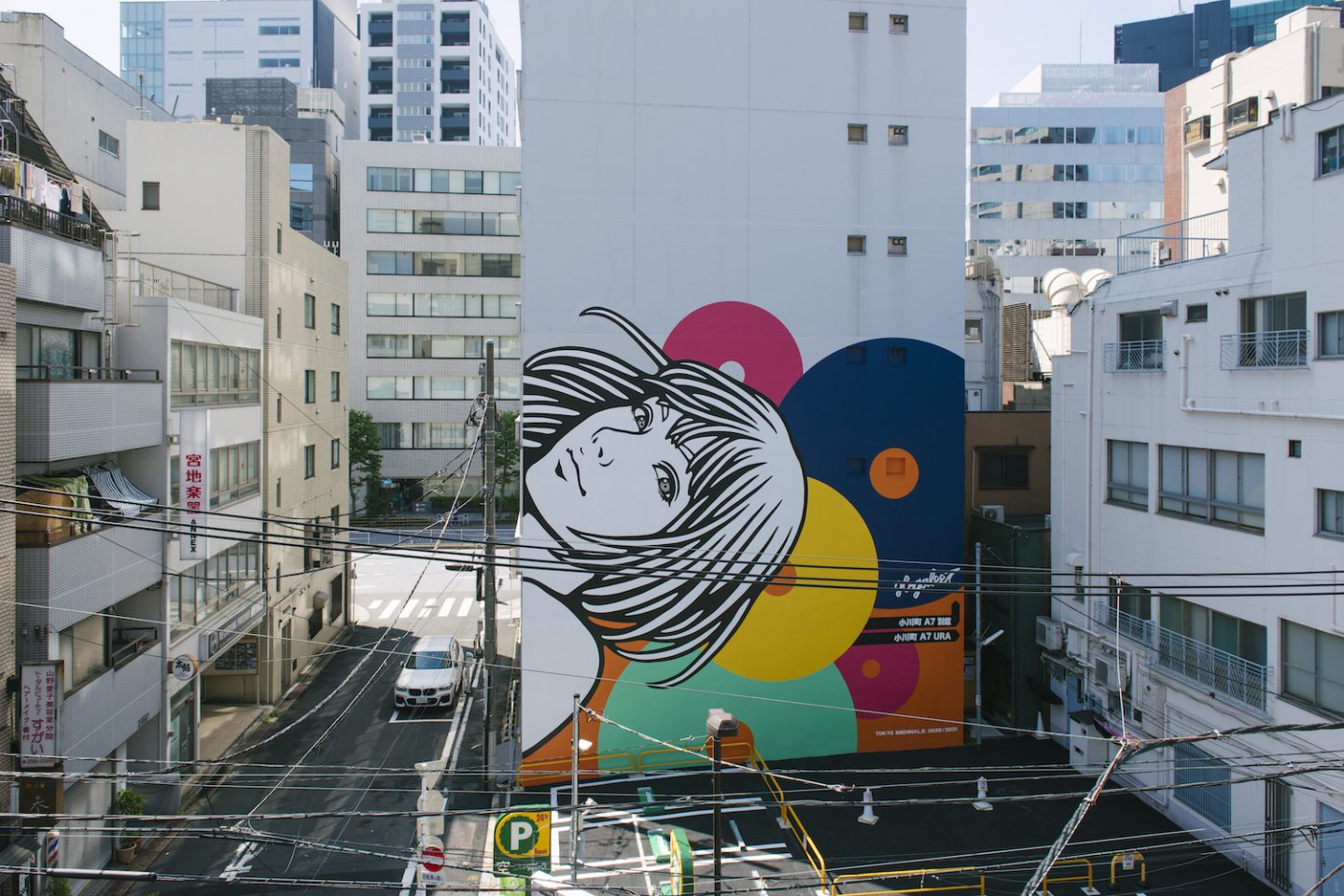 [Tokyo Biennale "note" article] INTERVIEW: Hogalee
Report: TB report on the production of Hogalee's "Landmark Art Girl" with photographic diary
Artist
Hogalee
(Artist)
Born in Kanagawa Prefecture. In 2001, Hogalee completed an MA in Design at Tokyo University of the Arts. Adopting the motif of women, which act as a mirror reflecting the contemporary age, he continues to create "onnanoko" (Girls) symbolized in manga line drawings. His activities include making canvas paintings that reference contemporary art contexts, and murals that transcend the notion of canvas as support. In addition to using acrylic paint, he is also developing works based on the concept of "restoring to an original state," where murals made with masking tape are peeled away to return the space to its original condition. Solo exhibitions include "Masking/Fixing" (Gallery OUT of PLACE TOKIO, 2019), "mt factory tour vol.8" (Kamoi Kakoshi, 2019), "Sekai Wo Utsusu" (Fujisawa City Art Space, 2017), Trans Arts Tokyo (Kanda, 2017), Solo Exhibition "Restitution" (Ikejiri Institute of Design, 2014), and "No Man's Land" (former French Embassy, 2009).
http://hogalee.com/