Social Project
Projects to Build Academic Community
The Projects to Build Academic Community aim at forming a new platform for learning that goes beyond the borders of the city's numerous universities by strengthening networks between students themselves. In turn, this will create a space for practical learning and pursuit of criticism and technique that connects society with art.
The projects greatly welcome even those without any past connection to art. We live in a day and age when the value of art is not delivered to society by only specialists. All types of people have their own experiences and values, and when they engage in society through art, this enriches the possibilities of the future as it becomes further multi-layered and diverse.
As James Webb Young states, "an idea is nothing more or less than a new combination of old elements". Likewise, the projects invite you to join in the challenge of connecting people, people and artwork, and people and society.
Contents (tentative)
Concept of "Extra Cross Disciplinary" for Educators
Using the Projects to Build Academic Community as a platform, the aim is to create opportunities for exchange beyond a researcher's organization or field of expertise, and even collaborative research.
"Learning Beyond Disciplines" for Students
With opportunities to participate as interns for the various Tokyo Biennale projects, students will gain knowledge and experience going beyond any discipline.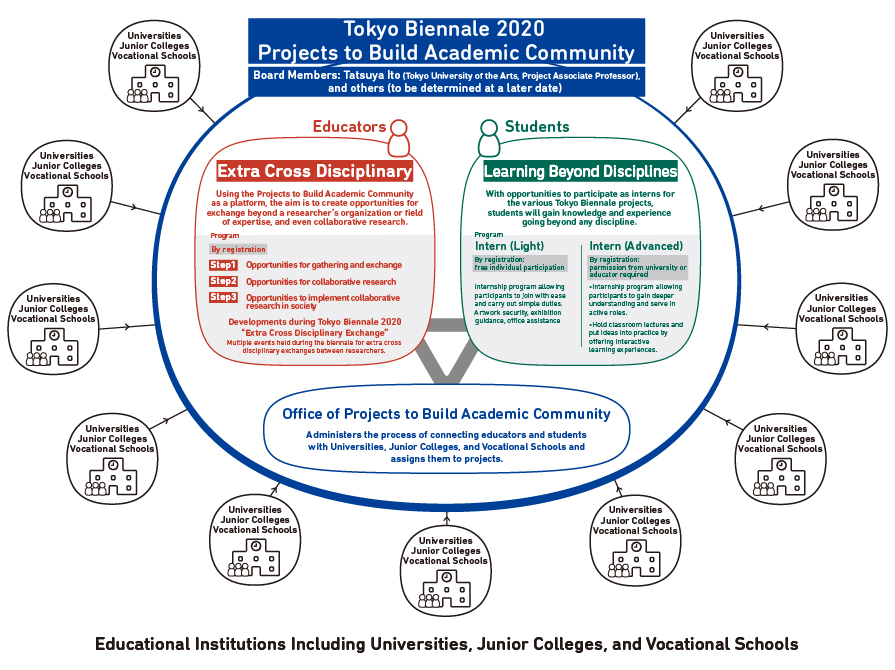 (As of March 2020)
Project Director
Tatsuya Ito
(Project Associate Professor at Tokyo University of the Arts)
Born 1975 in Fukushima Prefecture. Ito serves as the project manager for "Museum Start". He received a Ph.D. at Tokyo University of the Arts with a specialization in Art Education. Including the direction of art projects, Ito is involved in the planning of a wide variety of cultural programs. He has co-written works including "Tokyo 1/4 ga teian suru tokyo bunka shigenku no arukikata" (translation: "How to walk through Tokyo's cultural resource zones based on the proposal of Tokyo's 1/4" (Bensei Publishing Inc.), "Museum Summit: Museums Innovating on Society" (Gendaikikakushitsu Publishers), among others.