Social Project
A Project for Criticism and Media Practices
RELATIONS: A Project for Criticism and Media Practices is being launched as part of Tokyo Biennale. The project aims to consider the possibilities of art criticism and media practices in the age of digitization and globalization—particularly in the space of web and social media—and to propose new practices for criticism and media.
Entering the twenty-first century, art has been dramatically changing. The central location of art practice is gradually moving from museums and galleries to community, society, urban space and cyberspace. The development of digital media is making art more immaterial. This new shift is responded to by a set of new vocabulary in the arts and humanities: participatory art, socially engaged art, community art, relational aesthetics, EcoArt, bio-art, speculative design, post-humanism and so on.
The role of critique seems, however, to be undermined. Asking why critique has run out of steam, anthropologist Bruno Latour declared the end of critique, which was once a core of modern philosophy. In fact, within the field of contemporary art alone the presence of art critics has become more and more invisible, while artists, curators, art dealers and collectors are more and more visible. Is the role of critique really ending?
We doubt that the role of critique is ending; rather, now is the time in which we need 'critique'. This is because we are facing a crisis as art and its surroundings—including society, politics and economy—are drastically transforming themselves. It is in the age of crisis that practices of critique are always needed to create new languages to describe new situations.
The form of new 'critique' may be different from what we call art criticism, which is based on textual languages. It will consist of a variety of media language systems by incorporating new media and keeping an appropriate distance from what is criticized.
RELATIONS is a project for criticism and media practices that tries to create new languages for the arts and media in response to new art forms in the twenty-first century. It attempts to explore the relationship between art and other fields, including those of sociology, economics, politics, science and technology. While this project is part of Tokyo Biennale, it critically examines the biennale and aims to propose new ways of art.
Yoshitaka MŌri (RELATIONS Project Director)
Contents
[RELATIONS] holds the below two as its main pillars of activity
・ Web journal – a constant space for criticism involving varied, pluralistic perspectives
・ Symposium – a general space for focus on discussion between gathered experts
(1) Web Journal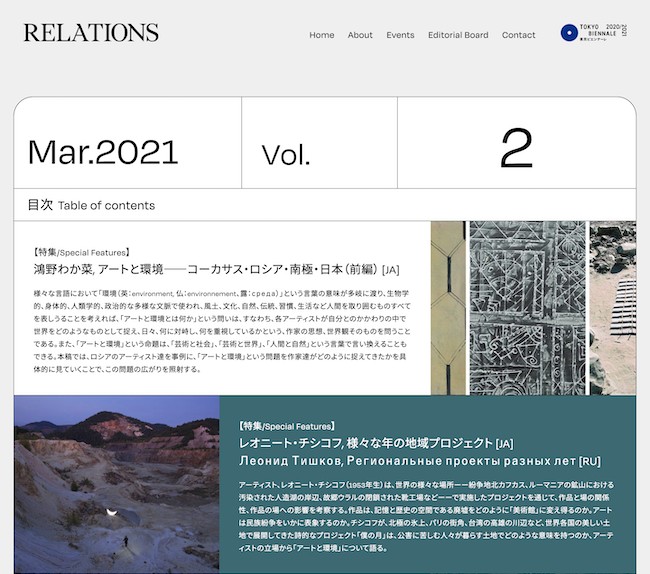 (2) Symposium
https://www.youtube.com/channel/UCDHKbE_B9LZt2JDqgFJwOkA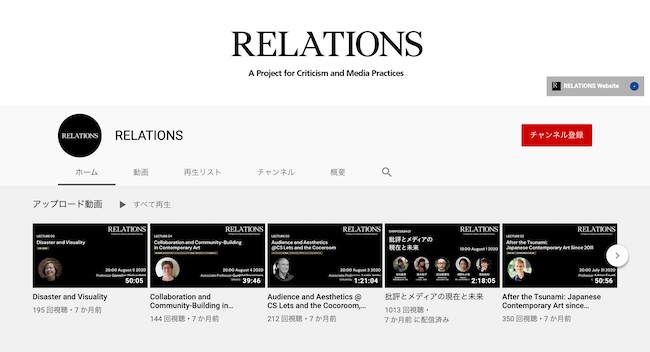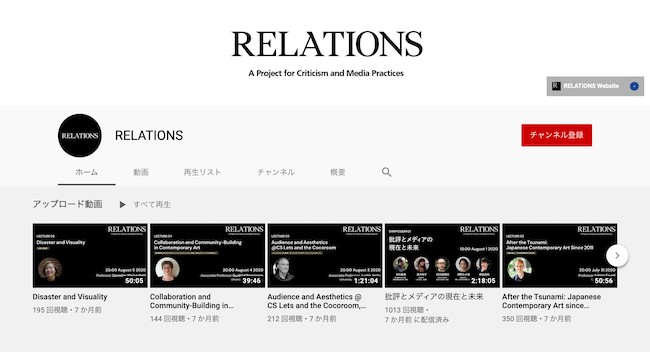 RELATIONS Editorial Board
Yoshitaka Mōri ( Professor, Tokyo University of the Arts )
Kenji Kajiya ( Professor, University of Tokyo )
Tomoko Shimizu ( Associate Professor, University of Tsukuba )
Wakana Kono ( Professor, Waseda University )
Yoshikazu Nango ( Associate Professor, Meiji University )
Gennifer Weisenfeld ( Professor, Duke University )
Adrian Favell ( Professor, University of Leeds )
Clélia Zernik ( Professor, École nationale supérieure des Beaux-Arts de Paris )
Gunhild Borggreen ( Associate Professor, University of Copenhagen )
Justin Jesty ( Associate Professor, University of Washington )
Pan Lu( The Hong Kong Polytechnic University )
Michelle Lim( Nanyang Technological University )
Haeyun Park( City University of New York )
(As of March 2020)
Project Director
Yoshitaka Mouri
(Sociologist, Professor at Tokyo University of the Arts)
Born 1963 in Nagasaki. Mouri is a professor at Tokyo Univesity of the Arts Graduate School of Global Arts. After graduating from Kyoto University, he worked for an advertisement company, and then earned a Ph.D. at Goldsmiths, University of London. His critical practice takes on themes involving contemporary culture and the organization of urban space, as well as social movements, with particular interest in contemporary art, music, and media. Written works include "Sutoriito no shiso" (translation: "Ideas behind street") (NHK Publishing, Inc.), "Culture = Politics – New Cultural-Political Movements in the Age of Globalization" (Getsuyosha Limited), and "Popular Music and Capitalism" (Serica Syobo, Inc.). He also served as editor for
"After Musicking" (Geidai Press).