D01

Art Project
TOKYO BENCH PROJECT 2019-2021
GROUND LEVEL INC. (Motoko Tanaka + Masaki Onishi)
Area

DAIMARUYU・Nihonbashi・Kyobashi・Ginza

Period

2021.07.10(Sat) - 09.05(Sun)

Hours

All day open

Venue

Others

Free Admission

-Another venues available

TOKYO SQUARE GARDEN
3-1-1 Kyobashi Chuo-ku Tokyo
Period: 2021.07.10(Sat) – 09.05(Sun)
Time:All day open

3331 Arts Chiyoda
Arts Chiyoda 3331
6-11-14 Sotokanda Chiyoda-ku Tokyo
Period: 2021.07.10(Sat) – 09.05(Sun)

OOTEMACHI
Open space of Yomiuri Shimbun Building, Tokyo Sankei Building side
1-7-1 Ootemachi Chiyoda-ku, Tokyo
Period: 2021.08.05(Mon) – 09.05(Sun)
Time:Open All Day
Time:All day open
"TOKYO BENCH PROJECT" by the company GROUND LEVEL (Motoko Tanaka + Masaki Onishi) – holding the motto "towns are built from the ground level" – will place benches in 4 venues in the area of the Tokyo Biennale 2020/2021 that will connect people, communities, and art, completely transforming the scenes of Tokyo. The project kicked off the biennale's pre-event of 2019 by placing 20 benches and one that was twice as large as the standard size, in an open space of the Kyobashi area. The project overflowed public spaces with benches, transforming the way people go about their daily business, and sights they encounter within our city.
By placing a bench, the circulation of people in the area improves, creating a lively everyday scene. This is a project that boosts people's consumption behavior, health, and community building.
(As of February 2021)
1: "TOKYO BENCH PROJECT" 2019, TOKYO SQUARE GARDEN open space (Tokyo), Photo by yukai
2: "Kissa Laundry (Morishita Ryogoku Main Store)" 2018, Sumida City, Tokyo, Provided by Ground Level Inc.
Current Activities
[Pre-event] TOKYO BENCH PROJECT 2019 (27.10-24.11.2019)
This project aimed to transform the bench-lined open space of Tokyo Square Garden (Kyobashi, Chuo-ku) into the most friendly and welcoming place in the surrounding neighborhood.
Design supervision: Tsubame Architects
Support: Tokyo Tatemono Co.,Ltd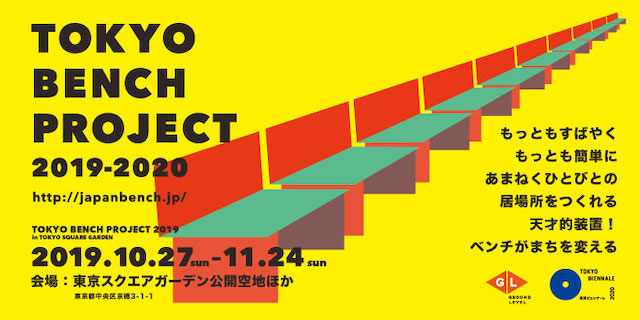 Artist
GROUND LEVEL INC. (Motoko Tanaka + Masaki Onishi)
With the motto, "towns are built from the ground level", the company aims at building spaces for local people to play small roles in their neighborhoods. With a comprehensive design comprised of "hard" (architecture, interior, exterior), "soft" (what is offered, what is allowed), and "communitcation" (what moves people and pushes them into action), the resulting architecture and facilities along with the people who live there and the entire community grow more active through "ground level building".
http://glevel.jp/
Venue
Location
2-5 Marunouchi Chiyoda-ku Tokyo
Access
・2 minutes walk from Marunouchi South Exit of JR "Tokyo" Station.
・2 minutes walk from "Tokyo" Station on the Tokyo Metro Marunouchi Line.
・2 minutes walk from "Nijubashimae" Station on the Tokyo Metro Chiyoda Line.
Others
Inquiries
tb2020.jp/en/contact-en
(Tokyo Biennale Executive Office)