Social Project
ART WRITING SCHOOL
Period

-

Hours

-

Venue
Art Writing School is a project that nurtures workers in the field of writing through elements of criticism, editing, and public relations. The aim is to unfold a discursive space as rich as possible surrounding the Tokyo Biennale 2020/2021 by getting coverage, weaving words, and assembling texts out of the other projects. With critics, editors, and press members from the frontline as invited guests, students will gain experience and know-how, while their writing will be directly edited by the project director, Ren Fukuzumi. With these writing skills being molded into them, students will gain the practical knowledge of how to hold interviews, edit articles, and create their own media.
――
Whether it be for an exhibition, art festival, or project, words and letters are essential. There is no way to build it without writing a proposal, and without a press release, there is no way to communicate about it. Without criticism or reviews, it will most likely receive no objective evaluation. Skill in words and letters is invaluable to the art scene.
However, while there are lectures for learning art management in university, there are practically no specialized lectures on training in words and texts. There may be some events where one can experience writing, but opportunities for continuous development are rare. And of course, in reality it is hard to come by human resources adept in words like critics, editors, or press members.
This is the reason why I am opening a school where we can weave together words relating to art and learn to professionally compose writing. Leading up to the opening of Tokyo Biennale 2020/2021, students will learn the principles of words and text, listen to lectures by critics, editors, and press members on the frontline, and through their original media, unfold a rich discursive space surrounding the biennale. The aim is to raise professionals who can fit words to any situation, whether it be art, architecture, design, or fashion.

Ren Fukuzumi, Project Director
PROGRAM
The content is full of opportunities for learning everything from theory to practice, through lectures by Ren Fukuzumi, special lectures by specialists in various fields related to writing, and fieldwork conducted during the Tokyo Biennale 2020/2021.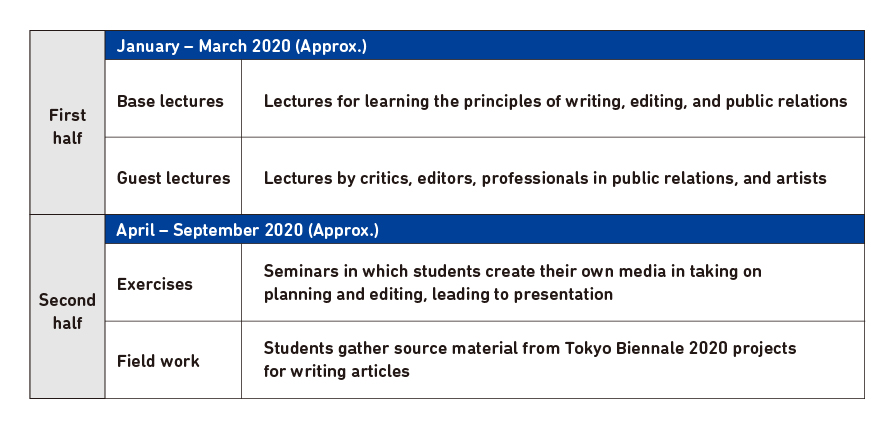 ※ Due to the change in the exhibition period of Tokyo Biennale 2020/2021, the course period of the Art Writing School has been extended to "January 2020 – September 2021".
MEDIA
Art Writing School's note site. Articles by students are mainly published here.
https://note.com/artwritingschool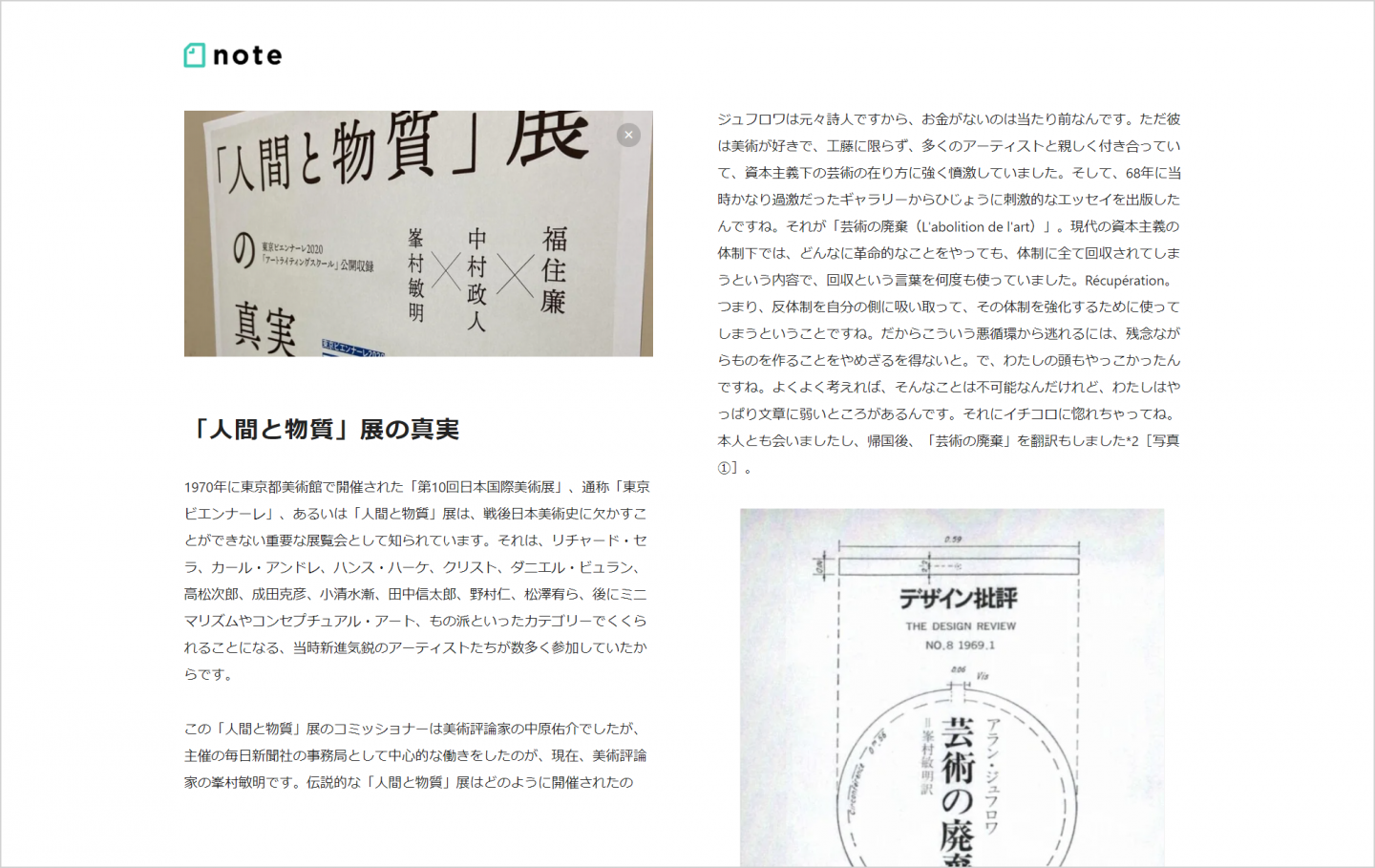 (As of March 2021)
Project Director
Ren Fukuzumi
(Art Critic)
Fukuzumi was born in 1975. He has written "Kyo no genkai geijutsu" (translation: "today's marginal art") (BankART 1929), and has co-written "Kosei Sasaki Exhibition Catalog: OK. PERFECT. YES." (3331 Arts Chiyoda). Currently, he is releasing exhibition critiques every month through Kyodo News.