Art Project
Kigaeru House
Yoshinari Nishio
The project venue, "Ebiharashoten", is a space that has grown along with the history of Japan's Westernization in clothing, as it went through changes in selling used clothes, ready-made clothes, and items treated as fabric. The former store faces Yanagihara-dori street, lined by many shops that sold used clothing in the late Edo era, continuing as the largest market for used clothing even after the Meiji Restoration. As an artist who has developed his activities based on the theme of "wearing" and communication, for this project Yoshinari Nishio will set a limited residency-type period where he stays at Ebiharashoten as its new shop owner. Here, he will explore the idea of the future of the area, and widely thinking, of the relationship between "wearing" and people. The exhibition will feature family photos and clothing, displaying Nishio's older series, as well as the clothing gathered while raising his own children and its relationship to their lifestyle. For his workshops, he will plan events combining food and clothing making, training children to become creative tailors, washing and hanging laundry, as actions that we experience daily. This will transform Ebiharashoten into a place where all kinds of people come in and out daily to join the experience of "wearing". Furthermore, in its function as a shop, the new clothing created through workshops will not just be displayed to the public, but will be sold and returned to somebody's everyday life.
Organizer: Kigaeru House Executive Committee
Support: Chiyoda-ku Urban Development Support
Cooperation: Ebihara Shoten Utilization Committee, General Non-Profit Incorporated Organization Tokyo Biennale
(As of February 2021)
1: "Laundry of the Senses" 2020, Ebihara Shoten (Tokyo), Tokyo Biennale 2020/2021 Pre-event
2: "Kid Tailors Project" 2014, KIITO DESIGN AND CREATIVE CENTER KOBE (Hyogo), Photo by Otsuka Kyoko (karamomo)
3: "Laundry of the Senses in Onahama" 2017, Photo by Chihiro Matsushita

Current Activities
[Workshop] Kid Tailors (28.11.2020)
Using scissors and sewing machines, children transformed old clothes in a creative way.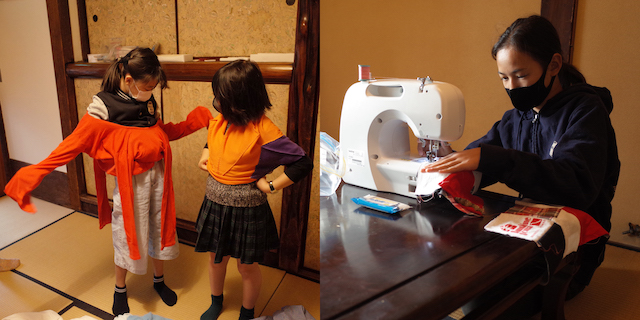 [Workshop] Laundry of the Senses (17-18.10.2020)
Working together with the artist, the participants washed clothes by hand and hung them on the walls and balcony of Ebihara Shoten. While the clothes were drying, the participants painted their own pictures as they looked at the hanging laundry.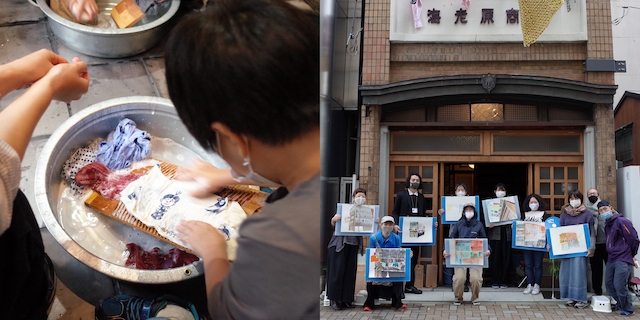 [Workshop] Laundry of the Senses Test Run (29.8.2020)
While communicating with the artist remotely, assistants checked the procedure for the workshop and tested how Ebihara Shoten could best be utilized to dry the laundry.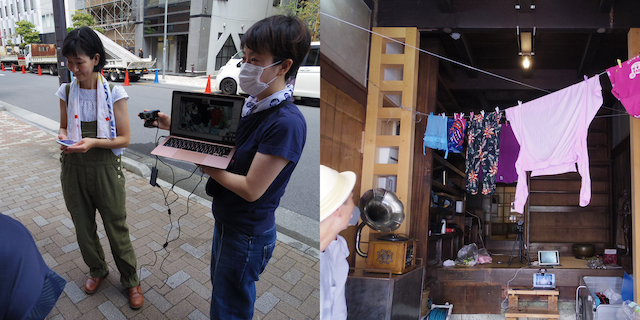 Artist
Yoshinari Nishio
(Artist)
Born 1982 in Nara. Nishio obtained Ph. D. in Fine Arts from Tokyo University of the Arts. He was offered a position as overseas artist trainee through the Agency for Cultural Affairs, Government of Japan (Nairobi, Republic of Kenya), and currently serves as associate professor in the regional promotion department at Nara Prefectural University. He creates projects across Japan and overseas that are focused on the relationship between fashion and communication. In Roppongi Art Night 2014, he undertook the project theme by displaying enormous artworks made of recycled clothing in 3 venue locations (Roppongi Hills, Tokyo Midtown, and The National Art Center, Tokyo).
http://yoshinarinishio.net/