O02

Social Dive (Japanese)
Tokyo Oh!! YATAI Listening Tokyo – rediscovering things and sounds
Yaei + Oshare Brothers
Area

Other

Period

2021.07.10(Sat) - 09.05(Sun)

Hours

12:00-20:00 Closed Tue

Venue

Others

Free Admission
●Another venue
Fifth Fujii Building 3rd floor
<Open Call Project SOCIAL DIVE>
"Tokyo Big Stands" is a project that builds settlements of empty architecture, which are made of materials such as bamboo and scrap wood, across empty spaces in Tokyo. These will become havens, what we call "Asyl", where people can continue selling their own items and expressing themselves freely. Throughout the Tokyo Biennale, the venues will proliferate from left to right. Liberated areas made where you can live to your fullest will become a reality in Tokyo, Japan's center, offering new lifestyles to participants.
As part of the larger plan, "Listening to Tokyo"is a project that takes your special records and replays them with enhanced sound quality. The resulting "salon" will become a space where participants can exchange their sentiments and stories surrounding the music (records) while enjoying the high quality sound.
(As of March 2020)
1: "CheLin" house, 2017, Kuma Art Museum (Kumakogencho, Ehime Prefecture)
2: "Hachioji, explicit and cool" explicit stage, 2019 Caffs kura (Hachioji U-road, Tokyo)
3: "Shiinamachi Salon" 2015, Ikebukuro Monparnasse Kaiyu Art Galleries (Shiinamachi, Tokyo)
Artist
Yaei + Oshare Brothers

Yaei
Yaei is a unit composed of Takahiko Kaino and Jiro Iwamoto, whose activities are based on the continuous construction of a "sanctuary."
Takahiko Kaino (in charge of interior decoration and coordination)
Born in Tokyo on June 6, 1975. A festival lover who carries the title of painter. In 2012, he moved from Tokyo to Matsuyama City in Ehime Prefecture, an unfamiliar place where he knew no one. Currently, he continues to present his work throughout the country, while devoting himself to "human revitalization," not to be confused with urban revitalization. He excels at making the best possible use of a given space to create a work that can only be achieved there. Paint and "people" (the artist himself) are his primary medium; he uses paint to create canvas paintings, and "people" to paint the city. Another reason why he calls himself a painter is because he adds color to the city. That is why the most happening place in Japan is said to be where Kaino can be found.
Jiro Iwamoto (in charge of exterior structure and horse-power)
Born on February 16, 1958 in Kihoku Town, Ehime Prefecture. While living in Tokyo in 1987, he was involved in the launch of Suizokukan Gekijo ("aquarium theater"), an open-air theater troupe. He was in charge of theater design and stage art. In 2001, he returned to his hometown in Ehime, where he continues to live. He is a veteran fighter, a living legend.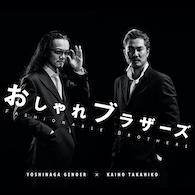 Oshare Brothers
Oshare Brothers are an artist duo of Takahiko Kaino and Yoshinaga Gender since 2015.
Takahiko Kaino
Same as above.
Yoshinaga Gender
Born in 1978, Yoshinaga Gender produces photographic works, installations, and overtly decorative sculptures primarily on the theme of the "self." He has pursued primitive forms of expression that directly stir the emotions, causing surprise, joy and wonder. As a result, he recently awakened to the idea of engaging in activities in the manner of a gastronome, sampling delicious food at various restaurants, and expressing the joy of such experiences through sound installations.
Venue
Location
2-45-9 Yahiro Sumida-ku Tokyo
Access
・8 minutes walk from "Keisei Hikifune" Station on the Keisei Line
・9 minutes walk from "Komurai" Station on the Tobu Kameido Line
・13 minutes walk from "Hikifune" Station on the Tobu Skytree Line
Others
Inquiries
tb2020.jp/en/contact-en
(Tokyo Biennale Executive Office)