K26

Art Project
Tokyo Z Studies
Tokyo Z Studies Research Lab
Area

Kanda・Yushima・Ueno・Kuramae

Period

2021.07.10(Sat) - 09.05(Sun)

Hours

10:00〜18:00

Venue

Others

Passport
Z is the Z of "zetsubo" (despair).
Since A follows Z, it can be said that Z is in a state of constantly seeking A.
I held a solo exhibition titled "Luminous Despair" in 2015, and A signifies the presence of "luminosity" in this state, while emotionally it is the A of "ai" (love). I see Z as a state of despair so strong as to cause anyone to abandon the existence of value in the process of value generation, but at the edge of which the energy of condensed love (or luminosity of existence) is born.
I name the perception and study of existence that has reached this state of "Z=despair (love, luminosity)" as "Z Studies".
"Z Studies," which extends beyond street observation and modernology, is currently at the germination stage, but will be developed as a research field revealing new focus points and perspectives connected to many academic fields such as sociology, ethnology, urban studies, and art studies.
Amidst the metabolism of Tokyo, which is being transformed into a super high-rise cityscape through redevelopment, there are private stores in which time seems to have stopped, and abandoned dwellings with no registered owner. Stones, signs, and other objects whose owners are unknown continue to exist even on newly constructed sidewalks and shoulders of expanded roads. For me, the manifold existence of "Z," which is no match for the concept of "R" (renovation), is on the same vector as the creation of "art". Once you have acquired this Z perspective, a walk around the city will lead to an increasing awareness of the rawness and diversity of human culture, which transcends the narrow concept of "art". It is like opening ourselves up and letting go of our ego, allowing us to see the world as it really is. Having acquired extreme "tolerance and criticality," "Z" may be said to be an idea that warns us of the existence of another value in Tokyo.
Based on the theme "Unseen Everyday Scene," Tokyo Biennale invites artists to create and exhibit works with diverse ideas in the field of Tokyo, and many of the venues for their presentations conmprise sites that I have discovered one by one through daily Z Studies fieldwork. In this sense, Tokyo Biennale can be said to be a space where value is discovered in sites that comprise a "Z" state, and where evaluation and the application of creativity that generates new urban contexts can replace such despair with the energy of hope.
To begin with, we launched "Tokyo Z Studies" as a research laboratory in order to develop Tokyo as a field for research. If you are interested in becoming a researcher of a still unexploited city through the activities of "Tokyo Z Studies," please do not hesitate to contact us.
We also hope that you will enjoy Tokyo Biennale from the perspective of Z-Studies. 
Masato Nakamura (Director, Tokyo Z Studies Research Lab)
Z Studies is composed of the three viewpoints of "Purity x Earnestness x Deviation," another theme of Tokyo Biennale, while the evaluation of sites is attempted according to the extent to which each viewpoint is applicable. "Tokyo Z Studies" is the means by which we have critically analyzed "Z" concealed in the city, achieved through the process of procuring venues for the Tokyo Biennale. The analysis of "Z" involves different viewpoints depending on the observer's position and interests, while Z Studies is oriented toward ongoing research and implementation as an approach that overlays urban critique with the context of art within the development of the Tokyo Biennale.
 This time, the condition of "Z" will be analyzed in the following three ways:
Purity: A sense of existence in which economic desire and the intensity of work have been shaken off to reveal heightened purity.
Earnestness: Actions or behaviour that reveal a sense of earnestness in spirit that transcends rational reasons such as objectives or functions.
Deviation: A fresh and deviant expressivity that has never been seen or experienced before under normal conditions.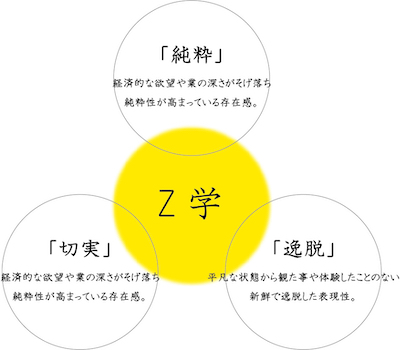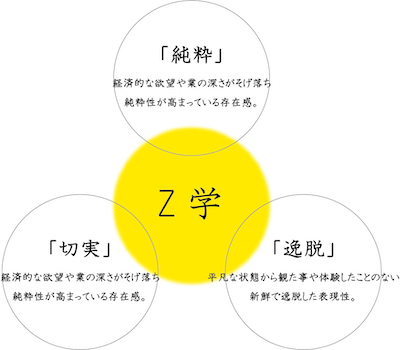 How to experience Tokyo Z Studies
An introduction to "Z" and recommended routes are available here.
My Map Site URL (to be released at a later date)
You can download the PDF data here.
PDF download URL (to be released at a later date)
In addition to an introduction to Tokyo Z Studies, our SNS account allows you to post and read comments and recommendations related to "Z".
Facebook/Instagram site URL (to be released at a later date)
(As of June 2021)
1: Okachimachi Iron Bar
2: Narrow housing in front of Kanda Station
3: Kanda Asahi
Photo by Masato Nakamura
Project Members
Tokyo Z Studies Research Lab
The Tokyo Z-Studies Reserach Lab was formed by the team responsible for developing the new exhibition venues for Tokyo Biennale 2020/2021. While walking around Tokyo on a daily basis, we discover the potential of "Z" hidden in the city, and endeavor to find new value through research activities that will lead to a vision for the future.
Lab Director: Masato Nakamura (https://tb2020.jp/project/yubido-restoration-projectnikui-hodo-yasashi/)
Senior Researcher: Yuko Sato, Hirotaka Isshiki
Research Associates: Rina Watanabe, Keiichi Takahashi, Asahi Naito
Specially Appointed Researcher: Akitainu Nono
Venue
Location
Rainbow Building 9F 2-2-7 Kanda Ogawamachi Chiyoda-ku Tokyo
Access
・1 minute walk from "Ogawamachi" Station on the Toei Shinjuku Line.
・3 minutes walk from "Awajicho" Station on the Tokyo Metro Marunouchi Line.
Others
Inquiries
tb2020.jp/en/contact-en
(Tokyo Biennale Executive Office)