D17

Art Project
Moving Earth Moving Plants -roots project-
Shujiro Murayama
Area

DAIMARUYU・Nihonbashi・Kyobashi・Ginza

Period

2021.07.10(Sat) - 09.05(Sun)

Hours

11:00-19:00

Venue

Others
To plant the seeds for an ever-evolving communication tool that brings us closer to the earth and plants in the city, I will carry out the following four projects concurrently. In the first project, "Children x Earth x Vegetables x Tea Leaf Making," participants grow vegetables and tea leaves at home in wooden "movable pots" while learning through lectures given by soil science experts. As we report back to one another using social media, knowledge will be gained through mutual sharing and the participation of agricultural professors and farmers. In the second project, "Sharing Environmental Studies x Art," we will hold soil appreciation events, workshops that involve playing with soil, and concerts and performances that communicate our activities and experiences. For the third project, "Touch = Roots = Food," we will hold an event in which we eat the vegetables we have grown together. Finally, in the fourth project, "Earth x Plants – Plant Painting," we will create and exhibit "plant paintings" using soil and plants we will collect together in Tokyo.
Coopeartion: Mori no Terasu (Yamada Shigeo Landscaping Design Office, Sengawa, Tokyo/Yamada Shigeo Owner, Kitaakita, Akita Prefecture)
(As of February 2021)
1: "Mobile Street Garden Art in Kyojima Mukojima Azumabashi Asakusa" 2010, Sumida Ward Office/Higashi Mukojima Children's Center, numerous outdoor locations (Tokyo)
2: Plant Painting workshop, 2017, Nagaki Elementary School (Akita)
3: "Heartbeat of Plant" 2012, former Tokyo Denki University (Tokyo)
https://www.plantproject.net/
https://www.facebook.com/101706184993529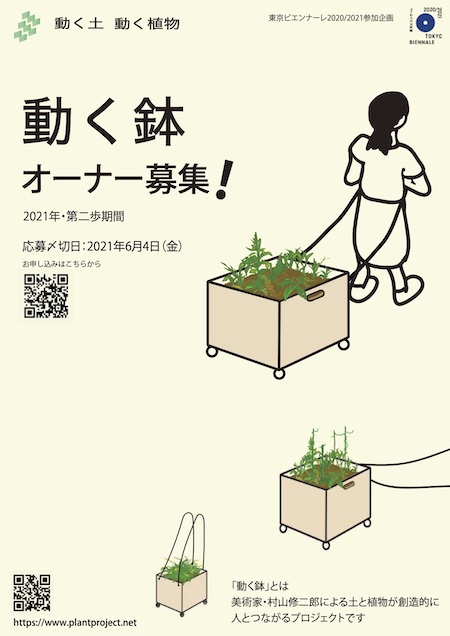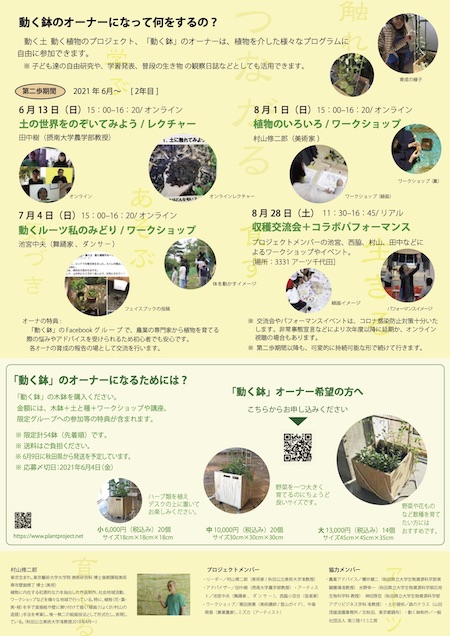 Current Activities
[Workshop] Plant paintings (5.12.2020)
Under the guidance of Shujiro Murayama, participants collected plants (grasses, leaves, flowers, fruits, roots, etc.) growing in their surroundings and used them to create pictures.

[Workshop] Straw for use, straw for display (22.11.2020)
Using straw from Otari Village in Kitaazumi District, Nagano Prefecture, which is the birthplace of instructor Tomoe Kurita, the participants made familiar tools and decorations and showed them to one another.

[Lecture]] A handful of soil connects us to the world (7.11.2020)
In order to start growing plants in the movable pots, the "movable pot" owners introduced themselves to one another before watching a lecture on soil and planting techniques from the instructor, Prof. Ueru Tanaka.

[Tokyo Biennale note article] Interview: Shujiro Murayama
Artist
Shujiro Murayama
(Artist)
Murayama was born in Tokyo, and completed his Doctor in Mural Painting at Tokyo University of the Arts, Graduate School of Fine Arts. Murayama creates artworks that focus on the primordial source of energy within plants, holds public/local activities and workshops, and is involved in various projects across Japan. He researches and studies local vegetation, holds "plant tour" projects that redefine plants as part of art, and has taken plant material (flowers/leaves/fruits) into his bare hands and directly smudged it onto paper and walls, known as the method of "plant painting" (a term invented by the artist), in order to create expressions that go beyond painting.
https://www.shujiro-m.net/
Venue
Location
1-7-1 Uchisaiwaicho Chiyoda-ku Tokyo
Access
・6 minutes walk from "Yurakucho" Station on the JR Line.
・6 minutes walk from "Shimbashi" Station on the JR Line.
・6 minutes walk from "Ginza" Station on the Tokyo Metro Hibiya Line, Ginza Line.
・6 minutes walk from "Hibiya" Station on the Tokyo Metro Hibiya Line.
・10 minutes walk from "Uchisaiwaicho" Station on the Toei Mita Line.
Others